Patients who have tinnitus hear something that's not from an external source. It can be a ringing in the ears, a whooshing or roaring sound, or even a sort of beating or clicking sound.
Some types of migraine can lead to tinnitus, such as migraine with brainstem aura and vestibular migraine.
There are medications used for migraine which also may lead to tinnitus, such as propranolol or even aspirin. Marijuana and alcohol may also cause tinnitus.
But what is it like to have tinnitus? Can you imagine never enjoying silence – always having another sound in the background, taking your attention away from what's going on?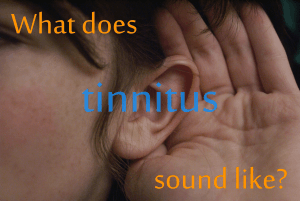 But what does tinnitus actually sound like? Well, the The National Institute for Health Research has gathered some examples from the British Tinnitus Association that you can listen to online. Just set your speakers to a normal listening level, and press "play" on any of the 11 sounds.
If you're like me, you'll be amazed. And you'll have more empathy for those dealing with this symptom.

What Does Tinnitus Sound Like?
If you have tinnitus, tell us – which one is closest to your experience, or is/was yours totally different?
For more information on tinnitus: