Links between related diseases, such as migraine and irritable bowel syndrome (IBS) are important for more than one reason. First, they get us closer to finding the common cause, which could lead to future treatments of both diseases.
But learning about links can be important to you right now. They can give you new insight into how to prioritize your treatment, and what lifestyle changes you can make that can give you more "healthy days" to enjoy your life.
That's why I was interested in the report put out by researchers at the Mayo Clinic earlier this month. The report had the typically long name Mitochondrial DNA, Gastrointestinal Motor and Sensory Functions in Health and Functional Gastrointestinal Disorders. Let me break it down quickly for you.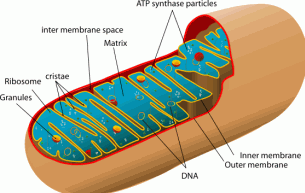 Simplified diagram of a mitochondrion
Researchers of various diseases, not just what are technically called mitochondrial diseases, are very interested in mitochondrial DNA (mtDNA), and something called nucleotide polymorphisms (SNPs). These are variations in the mtDNA that might be related to diseases such as stroke, migraine, and irritable bowel syndrome.
To get to the key point – these researchers believe that certain variations – SNPs – may be associated with gastric emptying, and even pain. The same variations are related to migraine, and childhood cyclic vomiting syndrome (which in many cases is probably abdominal migraine).
Developing treatments
Treatments are being investigated to treat diseases related to mtDNA. This includes diet and supplement treatments, exercise training, and more direct DNA therapy, such as artificially manufactured enzymes. One of the big jobs of the mitochondria is energy production, so a lot of today's therapy is based around reducing energy "leaks" (ie excessive stress), and keeping a steady source of energy (snacks with complex carbohydrates, eating regularly, supplements, etc).
Can this research benefit me Now?
This research actually supports much of what we've talked about before. For example, we just talked about gastric stasis and the benefit of migraine nasal sprays. Gastric stasis may be linked to migraine through these SNPs, or variations (which may explain why many migraineurs have gastric stasis all the time).
Much of the common treatment for mitochondrial disease makes sense for migraineurs. Ever had an attack because you skipped a meal? Or slept in (and so went longer without eating)? Here are some key treatments and lifestyle changes which have even more credibility when looking at the link between migraine and the mitochondria:
B complex vitamins: Very common in migraine treatment, and a key ingredient in Migreleif, a well researched supplement.
Antioxidents: such as vitamin E. Magnesium is also key in the cleansing of the body (also a key ingredient in Migrelief). (this also means avoiding toxins, like cigarette smoke, alcohol, and MSG). Magnesium and antioxidant superfoods include beans and spinach.
Eating regularly: Be careful not to skip meals. Try healthy snacks thoughout the day, including complex carbohydrates which will keep a steady supply of energy in your body.
Coenzyme Q10: A key supplement for migraine which we have discussed before in HeadWay. CoQ10 is also an antioxidant. But the key factor may be the way it "jump starts" the energy production in your cells. I am personally taking CoQ10 now, in the 300mg softgels (3 month supply of softgels). For migraine, between 150mg and 300mg is recommended, but check with your doctor for the amount right for you (CoQ10 at Vitacost).
You may find that following these suggestions not only cut down your migraine attacks, but also related mitochondrial symptoms such as depression, muscle fatigue and IBS. Fighting gastric stasis will also make your medication more effective when you need to take it. There are a suprising number of benefits to treating your mitochondria right!