If you're reading this through an RSS news feed, you may not have been over to visit the site lately. If not, you won't know that the Headache and Migraine News Blog has a new look (and a new domain name – more on that later)! Here's a recent snapshot: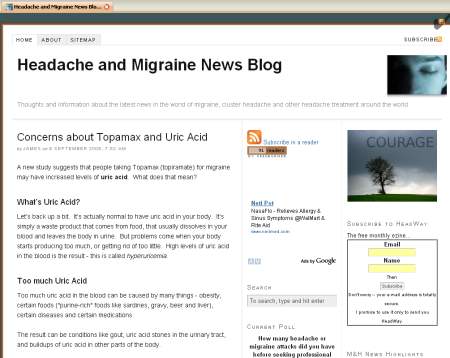 This past January I decided to
try moving
Headache and Migraine News
to the blogging software known as
WordPress
. The move was a success, so I've taken the time to more carefully design things (with a little help from
Thesis
) so that you have more resources at your fingertips, and are better able to interact with other visitors so that the community here can really work together.
You'll see many of the features that were here before, plus some new ones – a list of recent article updates, an about page, and a sitemap. And there's more to come! This is all part of a plan to revitalize things over the next few months, so that you can find more practical, clear information for fighting headache and migraine. Thanks for visiting!
Note: This blog also has a new domain name. Find it at headacheandmigrainenews.com